By Jeff Bleijerveld, Director of Global Ministries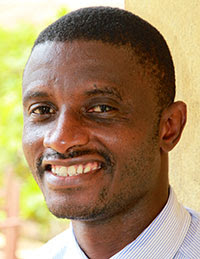 I just learned, Tuesday afternoon, that a United Brethren doctor in Sierra Leone has been admitted to an Ebola Care Center. Dr. Martin Salia, a United Brethren member, is a gifted surgeon who currently serves a hospital outside Freetown. Dr. Salia has often performed surgery at the Mattru UB Hospital as a visiting physician. He participated in the strategic planning meetings that took place at the hospital in February 2013.To date, five United Brethren members have died from Ebola. The first was Mrs. Baindu Laga, a pastor's wife and nurse from Kenema. Just last week an entire United Brethren family from Freetown–Mr. Vandie Lansana Samuka, his wife, and two children–were buried.
In the 1990s, Sierra Leone Conference sent Dr. Salia to Burkina Faso to participate in extensive training designed for producing medical missionaries. Martin was mentored by a missionary doctor with years of experience. The idea was not just developing Martin into a good surgeon, but into a follower of Christ.
The Sierra Leone Conference helped support Martin with this training, with the understanding that he would return to work at Mattru Hospital. But then the civil war occurred, and the hospital fell into chaos and disrepair. While decisions were being processed about whether or not to take him on at Mattru Hospital, Martin landed a job at the Kissie Hospital in Freetown.
In February 2013, during the strategic planning meetings, I watched Dr. Salia perform surgery on a one-year-old boy who had a hernia the size of a softball. The surgery was amazing to watch. All of the staff were Sierra Leoneans. Christian worship music played in the background. Before any incision was made, everybody stopped what they were doing and gathered around while Dr. Salia led them in prayer. The surgery went well, and they said the boy would be running around the village within a couple of days.
In your prayers, please ask God to deliver Dr. Salia from this Ebola infection.